30 Caliber Pinned Build Muzzle Device – Available to Order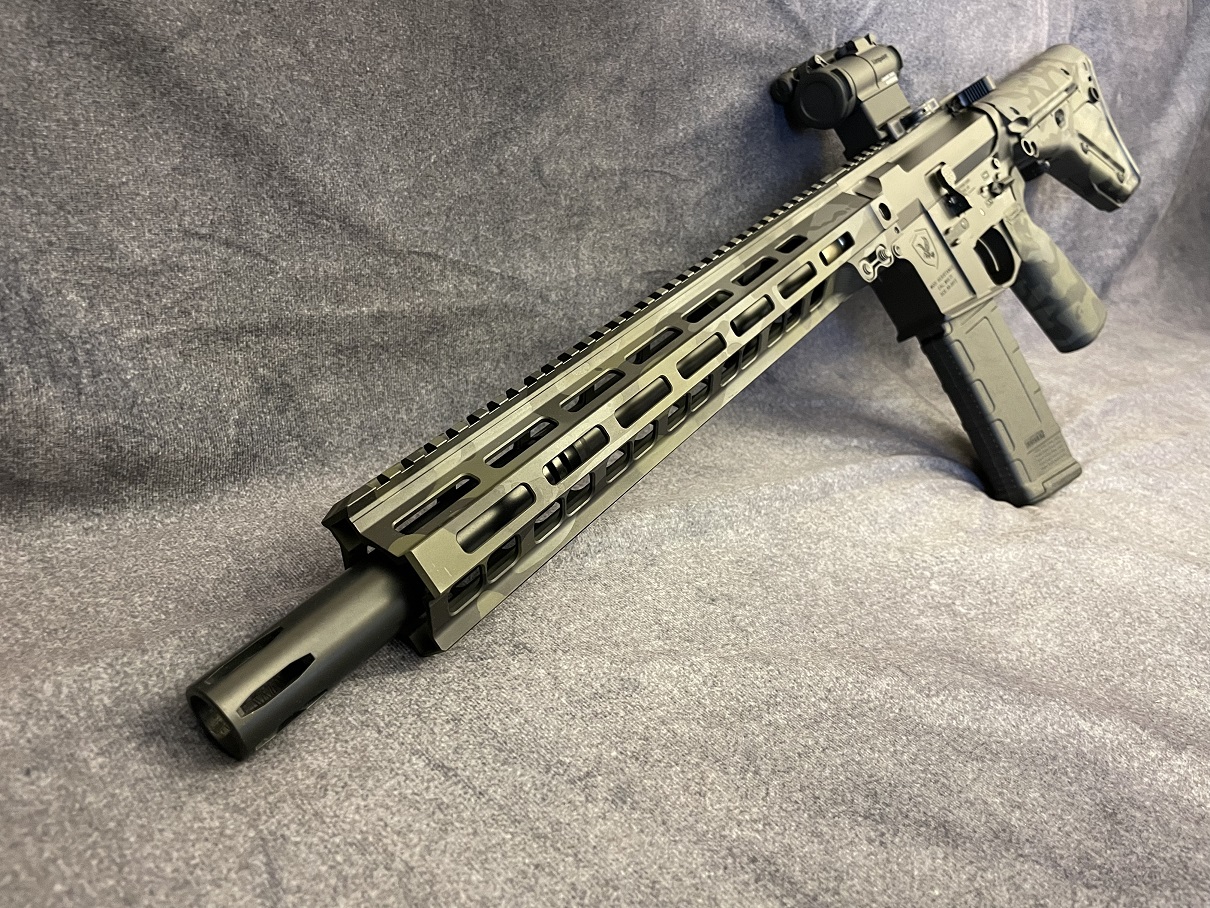 SOLUTION FOR AR PISTOL ATF COMPLIANCE
Pending ATF rules on pistol braces have AR pistol owners looking for ideas that don't require registering an SBR. The new Talion muzzle device provides a potential solution. 
Talion Defense 30 Caliber Muzzle Device
The Talion Defense 30 Caliber Muzzle Device provides a solution for those who are looking to convert an AR pistol to a compliant rifle without having to register an SBR. Pending ATF rules will likely make most AR pistol owners modify their current pistol or register it as an SBR. While a number of solutions for a pinned and welded build exist for the 5.56, 30 caliber options have been limited. Our muzzle device was designed for the 300 Blackout (one of the most popular AR pistol calibers) and other 30 Caliber and smaller barrels. Built to pin and weld to a 10.5″ barrel or longer to create a rifle length over 16.1″. Made to be added to the end of a barrel or to fit under a handguard, there are a number of potential build options available. Talion can also complete the pin and weld process for you if desired. 
Brings a 10.5" or longer barrel into a 16.1"+ rifle when pinned and welded
Add to your AR pistol build to stay in compliance
Fits under most handguards to create an integrally suppressed lsed look
Great flash hider and no POI shift
Limited stock available now - complete inventory available February 1
One Rifle to Do It All
We started with the concept of "if you could only have one rifle…" when building the Signature Series. Every aspect of this rifle has been optimized to perform in both precision and defensive roles. Meant to function as both a compact DMR and a hard use rifle, the Signature Series performs in any environment. 
Talion Defense Signature Series Rifle
The Talion Defense Signature Series rifle is the result of 9 months of development and testing encompassing hundreds of hours and thousands of rounds on the range. We rigorously tested every component and combination to ensure consistent top performance. The Signature Series started with the idea to create a lightweight and compact Designated Marksman Rifle (DMR) but evolved into a "One Rifle" project. Meaning we wanted one rifle that could perform roles ranging from a DMR to a CQB. The Signature Series is a lightweight package with a 16″ barrel that truly performs. Custom DMR profile barrel with matched bolts and optimized specs and tolerances throughout its hand build.  It consistently achieves 5-shot groups of 0.5″ at 100 yards with Federal Gold Medal Match 77 gr ammo and 5-shot groups of 0.65″ at 100 yard with Black Hills 69 gr SMK ammo. Those aren't the best groups it has ever shot, that is what we consistently achieve. The Signature series has also been tested for hard use including rapid fire, full auto, heavy suppressor use, and other adverse conditions. Consistent reliability and superior performance are its signatures. Each rifle is tested for accuracy before leaving the shop and test targets are included.
223 Wylde Chamber Custom Profile 16" Barrel with Matched Bolt
Billet Upper and Lower and Geissele Mark 14 rail in 15" Length
Single Color Cerakote or Custom Distressed Multicam or Multicam Black by Deadlock Coatings Available
Superior Performance from CQB to DMR Roles
Complete deployment kits available
Limited Series Pricing from $2250-$2850 for rifle depending on options (2-6 week build time depending on coating options chosen)
Very Limited number of 300 Blackout Signature Series Pistols also available
Hankyu (Compact Sniper Platform)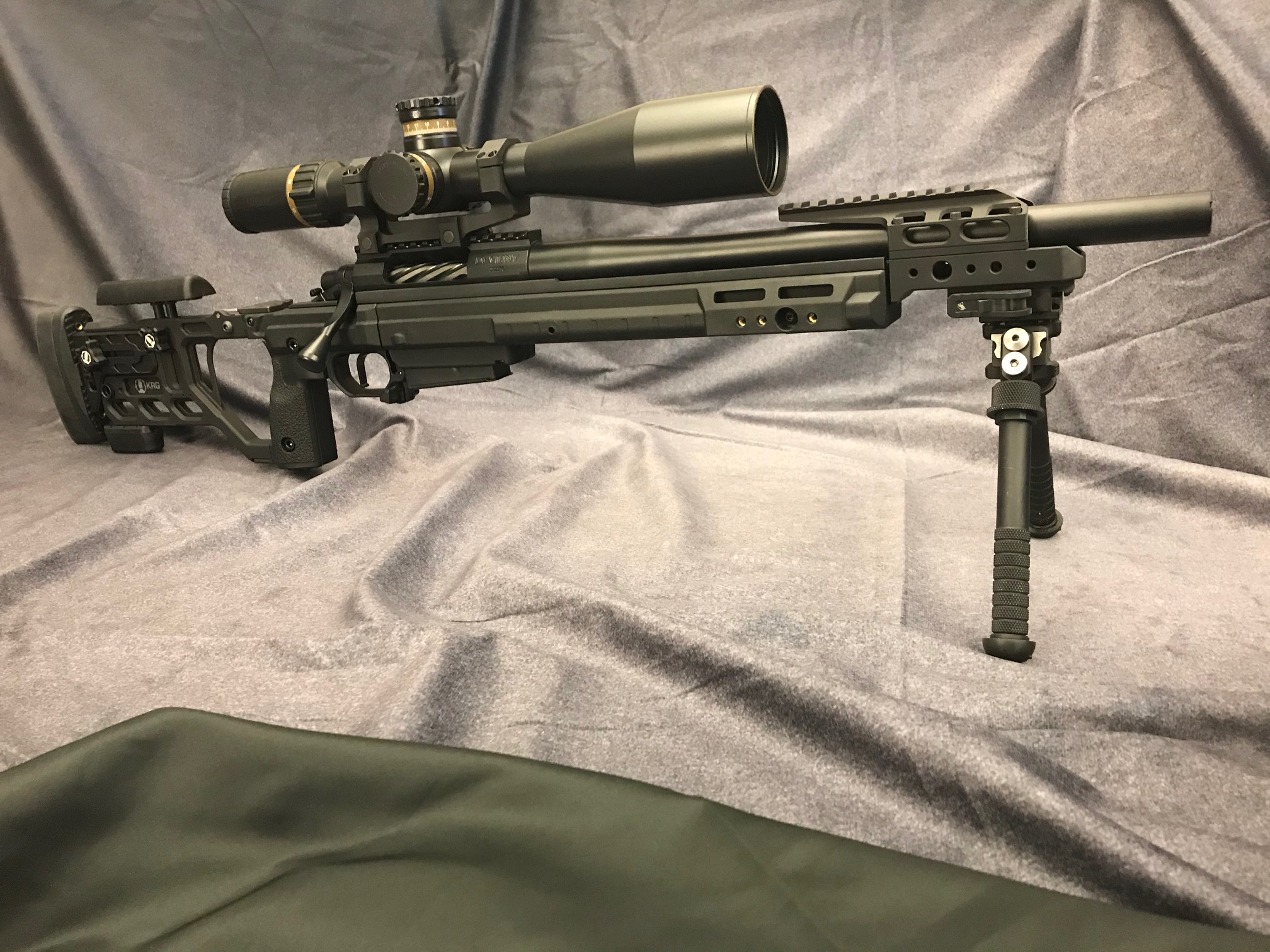 Modern Urban Sniper Rifle
Built to combine superior accuracy with superior concealability and portability, the Hankyu Compact Sniper Platform is build for today's Law Enforcement Sniper or DMR. 
Hankyu (Compact Sniper Platform)
"Hankyu" is the Japanese word for Short Bow, and this bow was a critical element of the Samurai arsenal. The Hankyu Compact Sniper Platform was developed at the request of an urban agency who found themselves needing to conceal the positioning of their snipers and hide their deployment. The requirement was for a rifle that could provide superior accuracy within typical urban sniper engagement distances while being able to be concealed in a backpack – without having to disassemble the rifle. Leveraging the latest in materials and technology, the Talion Hankyu achieves all those objectives and more delivering 0.5 MOA accuracy out to the extreme ranges of urban sniper operations. Now scheduling agency demos – contact us for more information. 
Available in 308 Winchester (other calibers upon request)
Complete Package folds to 26" and weighs approximately 11 lbs
Superior Accuracy to 600 yards
Various Optic, Supressor, Laser, and Light options available
Complete deployment kits available
Currently available for Agency Purchase only